Updates
3/27 Update - "Grab and go" Meals Update

As we continue our COVID-19 emergency plan to address the closure of schools through April 24, the District's school nutrition program will continue to provide breakfast and lunch meals for all JMCSS students and children 18 years and under. Meals are tentatively scheduled to continue through April 24, 2020.

The USDA has passed an immediate change that children no longer have to be present at pickup locations to receive meals.

Procedures will require that all sites maintain a record of children's names when a child is not present to receive meals. Meal counts will be taken. You may continue to choose the most convenient location to pick up your child's meal, regardless of school zone or grade level.

The time for "drive-thru" pick up is between 9:00 am - 11:00 am. School locations are identified below. Social distancing will be in practice and no one will be allowed to enter the school building except for essential personnel.

School Locations:

Alexander (Meals at this location will be handed out from a bus in the parking lot)
Arlington
Denmark
Isaac Lane
Northeast Middle
North Parkway Middle
South Elementary
Thelma Barker
West Bemis Middle

Thank you for allowing School Nutrition Services to assist our students and meet the needs of our community.

3/24 Update - Extending School Closure

Per the Governor's recent announcement, JMCSS will remain closed through April 24, 2020.

3/23 Update - Before and After Care Payments

All weekly before and after care payments will be suspended while schools are closed during the COVID-19 outbreak. If you paid for the weeek of 3/23/20-3/27/20 in advance, we will credit that payment to your account for the week that we return or, if you prefer a refund to your account, please email gccarver@jmcss.org.

Decisions regarding the recurring payments that have been set up will be made during the week of 3/23/20-3/27/20 and parents will be notified how we plan to proceed in the coming weeks. Thank you for your patience at this time and please feel free to contact the school-age child care office at 731-215-2686 or gccarver@jmcss.org, if you have questions.

3/19 Update - Educational Resources

During the school closures, we want to provide access to free educational resources that can be used from home. Although nothing can replace the presence of a classroom teacher, these resources will allow students to continue to engage in meaningful academic experiences while schools are closed. Support for obtaining internet access is also included.

We are currently planning ways to provide access to paper-based materials for those without access to a device with internet capabilities and will provide more information early next week.

3/19 Update - Pre-K Registration

The pre-K registration event scheduled for March 24-27 has been cancelled and will be rescheduled at a later time. The online portion of the Pre-K registration form will open on Monday, March 23rd and more information will be provided on turning in registration documents.

3/18 Update

As part of our COVID-19 emergency plan to address the closure of schools, the District's school nutrition program will provide breakfast and lunch meals for all JMCSS students and children 18 years and under. The child must be present at pick-up locations to receive meals. You may choose the most convenient location to pick up your meal. Meal counts will be taken.

We will begin serving meals on 3-23-2020 with an ending date on 3-31-2020, tentatively. The time for "drive-thru" pick up is between 9:00 am - 11:00 am. School locations are identified below. Social distancing will be in practice and no one will be allowed to enter the school building except for essential personnel.

School Locations:

Arlington
Denmark
Isaac Lane
Northeast Middle
North Parkway Middle
South Elementary
Thelma Barker
West Bemis Middle

Thank you for allowing School Nutrition Services to assist our students and meet the needs of our community.

3/16 Update

In alignment with the Governor's recent request, Jackson-Madison County Schools will remain closed after spring break through Tuesday, March 31st. School-level teachers and staff will remain off during this period as well. More information is forthcoming.

Information regarding school nutrition and meals will be available later this week. As other information is available we will post to our website and district social media. For more information about COVID-19, please refer to the CDC website.

3/11 Update

Speculation has arisen regarding the possibility of a coronavirus case at South Side High School, however at this time those rumors are unfounded. Should there be a confirmed case of coronavirus in JMCSS, official communication will be distributed via all call and district media. This web page will continue to be updated as well.

In order to avoid undue panic, please check the source of any information before you share it on social media.

Coronavirus Hotline

The Tennessee Department of Health has launched a Tennessee Coronavirus Public Information Line which can be reached between 10:00 a.m. and 10:00 p.m. daily at 877-857-2945.

Resources

Importance of Handwashing

Handwashing is one of the best ways to protect yourself and your family from getting sick. You can help yourself and your loved ones stay healthy by washing your hands often. Use these best practices and reminders for handwashing.

Coronavirus FAQs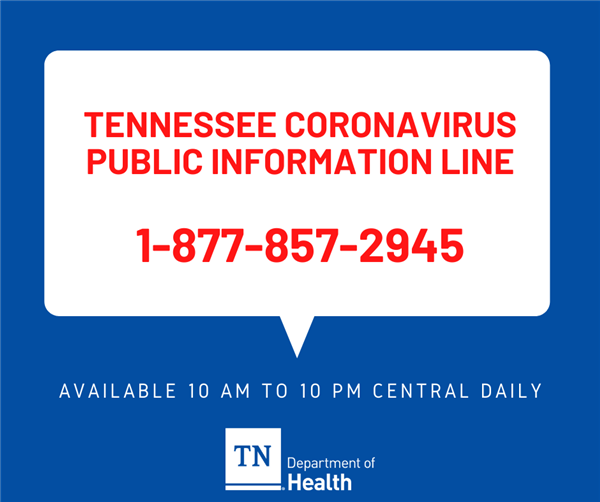 FAQs
How does the coronavirus (COVID-19) spread?

What are the primary symptoms of the virus? What should I be looking for?

What should I do if my child or someone in my family is exhibiting symptoms?

What other precautions should we take?

Should I continue sending my child to school and after school activities?