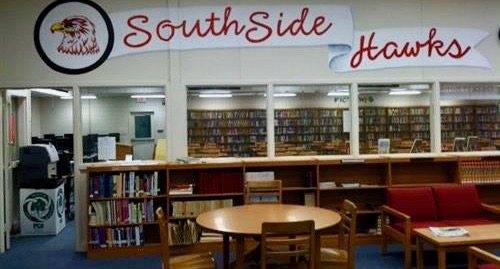 Welcome to the South Side Library Media Center

The South Side Library Media Center is located in the East Campus and offers a wide selection of resources for the students, faculty, and staff. A collection of nearly 10,000 print resources, computer labs, digital resources, audiovisual materials, and more are available to you, whether for meeting academic goals or personal enjoyment.

The Library Media Center is opened each school day from 7:00 a.m. - 2:30 p.m. Students are invited to visit the library before and after school, between classes, or with a pass from their teacher. We hope to see you often!

View the South Side Library Media Center Policies and Procedures

Seniors in Mr. Wardlows's English IV class...these items will be helpful as you work on your research paper!

Do you have a question, problem, or are stuck and not sure what to do? Contact Ms. Parnell, your school library media specialist!
ACT Prep Resources
Mrs. Webb's ACT Prep Study Page

Mrs. Livingston's ACT Prep Page

Testing and Education Reference Center

This is an excellent FREE resource provided by the Tennessee Electronic Library, with three full length practice tests and detailed answer explanations. Additionally, you can take an online ACT Prep course, download Peterson's ACT Guide e-book, find test taking strategies, ACT word of the day, and more! You must create an account to access the material, but this allows you to return to the site as you wish to work!

[From the link, scroll down to choose Testing & Education Reference Center. Choose "College Prep," then ACT.]

Kaplan Free Online ACT Practice

Kaplan offers some FREE ACT Prep, including the ACT Pop Quiz, ACT Question of the Day, ACT 20-Minute Workout, and ACT Turbo Test. The ACT Question of the Day will e-mail you a message daily and includes detailed answers. You must sign up for an account to get the full access, and expect ads and emails encouraging you to purchase their test prep package.

Union Test Prep

Union Test Prep is a FREE site offering practice tests, flash cards, study guides, and test taking tips. Work at your own pace anonymously, or create a free profile to save your progress. This site does have ads that can be distracting, but you have the option to turn them off for $5.