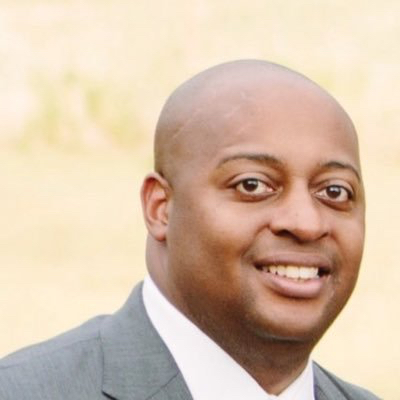 Phone: 731-664-2500
Email:
Degrees and Certifications:
Dr.

Eric Jones




Eric T. Jones was born in Tupelo, Miss., and raised in Starkville, Miss. His family eventually moved to Henderson, Tenn., where he graduated from Chester County High School in 1998. Eric went on to attend Middle Tennessee State University and Freed-Hardeman University where he excelled in basketball and majored in History. Upon graduation from FHU in 2002, Eric earned a Master's degree in Administration and Supervision and an Educational Specialists degree in Educational Leadership. Eric received an Ed. D in Leadership and Policy Studies from the University of Memphis in August of 2016.

Dr. Jones started his professional career in 2002 at Woodstock Middle School in Millington, Tenn. He taught World Geography and coached basketball. In the fall of 2003, he joined the JMCSS family as a teacher and coach at Madison Academic High School. He spent three years there before taking an assistant principal's position at Liberty Technology Magnet High School. He served in this capacity for two years before becoming the interim principal during the fall of 2008. Dr. Jones was very instrumental in helping move Liberty's graduation rate from 72.9 percent in 2006 to 86.2 percent in 2008, which eventually led to Liberty's "Good Standing" with the state.

Dr. Jones accepted the position as principal at The Jackson Central-Merry Academy of Medical Technology as a part of a "Fresh Start Program." JCM, with a graduation rate of 57 percent in 2008, had failed to make "AYP" since the creation of No Child Left Behind in 2002. JCM was a Title I school in the heart of Jackson that served a demographic of 93 percent African-American and 90 percet Free/ Reduced lunch. During the summer of 2009, Dr. Jones interviewed more than 120 administrators, teachers and support staff members to begin the "Fresh Start Process." With the support of many dedicated educators, JCM was able to make "AYP" for the first time in the school's history in 2011 and remained in "Good Standing" with the state while improving to a graduation rate of 91.3 percent in 2012.

JCM was recognized by SREB'S High School's That Work for its marked improvement in the summer of 2012. Dr. Jones and the administrative team presented at the annual conference in New Orleans, La., with a focus on the strategies utilized in the school's turnaround. JCM was recognized by the National Association of Secondary School Principals; presenting at its Ignite 2013 Conference in National Harbor, Md. The school was also featured in an article in the organization's monthly magazine publishing, Principal Leadership, which spotlighted JCM for its comprehensive school-wide literacy initiative in 2013.

Dr. Jones worked for two and half years at J.O. Johnson High School in Huntsville, Ala., where they made significant progress in the school's turnaround effort. He was named Huntsville City School's Secondary Principal of the Year in 2014. JOJ experienced tremendous growth in areas such as graduation rate, school culture and college scholarship dollars.

Dr. Jones moved on to work for the National Institute for School Leadership as a Resident Faculty member from January of 2016 until April of 2017. He traveled throughout the country consulting with various school districts in the area of school leadership.

Dr. Jones is married to the lovely Megan Jones, who serves as a Special Education teacher at Pope Elementary School. They have two children, Riley Marie and Peyton Thomas.