Return to Headlines
More Tips for the Parent, also known as Home Teacher!
By Bret Scott
Adapted from 9 Tips for Parents Navigating Online Learning with Their Children Due to Coronavirus by Jennifer Fabiano, on theladders.com.
With today's news that traditional school has ended for the year, your job as Parent/Home Teacher has just become much more important. While everyone had hoped that this would be a temporary fix to a difficult situation is has now turned into a less than ideal but necessary tactic.
On the good side, teachers are still working and will continue to teach, direct, and support from a distance. We will all have to make the best of it. You as parents, family members, and other caregivers will have to help us help your students to muddle through to end the year as best as possible.
Looking around on line, I found some more tips and hints to help you do school at home. Some are familiar, some may be new, and hopefully all will encourage you as you continue your newfound formal role as educator. "This is a stressful, unpredictable time for everyone, including families, parents, and children," said Dr. Hurst-Della Pietra, the founder, and president of Children and Screens. "You can help your children by providing them with a structure and routine, and being a positive force in their education."
So, how can you as the parent/teacher help your student to succeed? Try these suggestions.
Limit distraction – Sometimes, drastic measures are needed to help keep your child's attention focused on their schoolwork. You should limit their use of their devices, other than what is needed to complete their work, until their schoolwork is done. If you choose, you can designated breaks for electronics, but make them aware that they only have a limited amount of time until they need to get back to work.

Make space for learning - It's important that you create a work space for your child that is strictly devoted to learning, just like many adults have home offices. Your children will achieve their best work in a quiet, comfortable, and dedicated space, preferably a different set-up than where they normally play games or watch television.

Maintain breaks such as snack time and recess - Routines and schedules are extremely important for children at school, and their at-home school is no different. Children will function best if they maintain their routine as close to normal as possible, even if it means setting alarms to indicate the end of a class period. Around lunch time, encourage them to get up, get some fresh air, go for a walk or bike ride, or have a snack so that they are not sedentary for the entire day. You can even have a dedicated PE time!

Allow them to interact with friends via calls, video chats, and other social media - Your children are used to lots of social contact at school, so they will definitely feel the effects of social distance. Going beyond social media or text messaging, video chats and conferencing (Zoom has become our newest friend!) are often the closest thing to seeing someone in person, and are a great way to get in social time and not worrying about our 6 feet!

Mix screen time with old school learning mediums – In this day and age, computers and the internet are our "go to" for home school and distance learning but remember, that's not all there is! It's likely that your children will want to continue to use a screen of some sort during their breaks as well (video games and chats) so it's important to limit screen time by mixing in some of the old school stuff as well. There are some hard copy packets available from school for "page time." Print out the occasional article to use instead of just reading it on line. Find a real, live book for them to read for a change of pace from the screens. Trade books and magazines with neighbors and family members. Have students report back about what they read. Let them tell you the story of the book they read. Ask questions. Did they like it? Why or why not? Why was that article included in the magazine? What was the purpose of it? Have them read out the steps in a recipe to make a new dish.

Keep in touch with other parents – Outside of teachers and other school officials, other parents are your greatest allies. They are in the same boat! Help each other out. Connect and ask questions. If you're not great in math, you probably know someone who is! Reach out and ask!

Don't underestimate the power of an overall schedule - A schedule for your child's work is extremely important. To start, experts recommend keeping them on the same or similar sleeping schedule that they have during school. If a schedule was not provided by their teachers, help them write a daily schedule and weekly one, as well. Having a clear vision of what is expected will help them see that just because they are home does not mean they don't have work to do. What a great life lesson to help them prioritize work, and create goals, tasks, and deadlines, just like adults do when they go to work.

Don't let your children treat this as a vacation – Just because we are not going to the school building every day does not mean that schooling has stopped! This is not time off but learning in a different form and method. It's important to remind them that their education still comes first. Obligations like class assignments aren't going away just because classes have moved online.

Remember to schedule time for fun! – No, it's not a vacation, but it is important to have some fun with your children while they are at home. Make the most of this unique opportunity! It's rare that you have this much time with your children. Use it wisely. Why not organize a family game time! Cards, charades, chess or other board games are a great way to spend time together. Don't forget getting outside, too, like a hike or walk together.
I hope these are helpful or at least a reminder of the possibilities that lay before you. Don't hesitate to reach out to your students' teachers and other school officials for more help or suggestions. Together, we will get through this and come out better on the other side!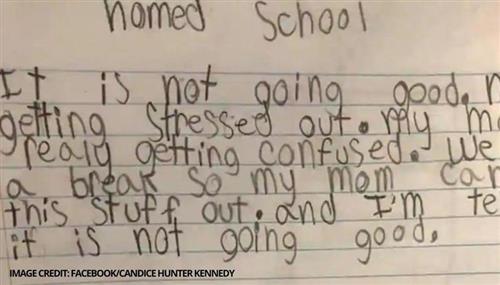 Fabiano, Jennifer. "9 Tips for Parents Navigating Online Learning with Their Children Due to Coronavirus." Ladders, 30 Mar. 2020, www.theladders.com/career-advice/tips-for-parents-online-learning-with-children.