Return to Headlines
Madison Academic Band receives prestigious state award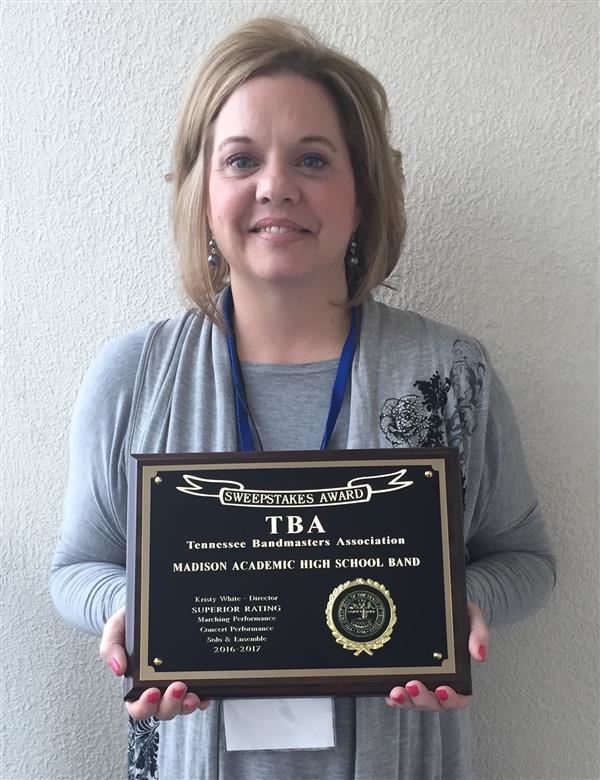 JACKSON, Tenn. – For the second straight year, the Madison Academic High School Band has achieved the Sweepstakes Award from the Tennessee Bandmasters Association. Mrs. Kristy White, Madison's Director of Bands, accepted the award over the weekend at the Tennessee Music Education Association Conference in Nashville. Only 32 bands across the state achieved this honor.
Bands earn the Sweepstakes Award by scoring all superior ratings in prepared and sight-reading categories at the regional concert festival and superior ratings at the solo and ensemble festival in 2016-2017. For the past three years, the Madison Band has scored all superior ratings at the regional concert festival making them eligible for the state concert festival. The state concert festival will be held at Austin Peay State University in Clarksville, Tenn., Friday, April 27.
The Madison Band has also received the Distinguished Band Award from the American School Band Directors Association. To receive the award, bands must have earned superior scores in all categories on all judges' sheets at this years' regional concert festival. Only two bands from West Tennessee achieved this honor.
"I am so proud of my students' achievements both as a full band group and those who achieved individual superior ratings in events like Solo & Ensemble, All-West, All-State and the Governor's School," said White. "I have some amazing and talented students who are a joy to work with."
The Madison Concert Band, Jazz Band, Percussion and Flute Choir will present their Spring Concert, Tuesday, May 1, in the Madison Academic High School Auditorium located at 179 Allen Avenue. The free concert will begin at 6:30 p.m. and is open to the public.
In conjunction with the band concert, the Madison Art Department will host its end of the year art show. Art work will be displayed in the downstairs lobby and hallways beginning at 5:30 p.m. Seniors will be showcasing their work from the past four years.