Return to Headlines
JMCSS deputy superintendents tackle huge workload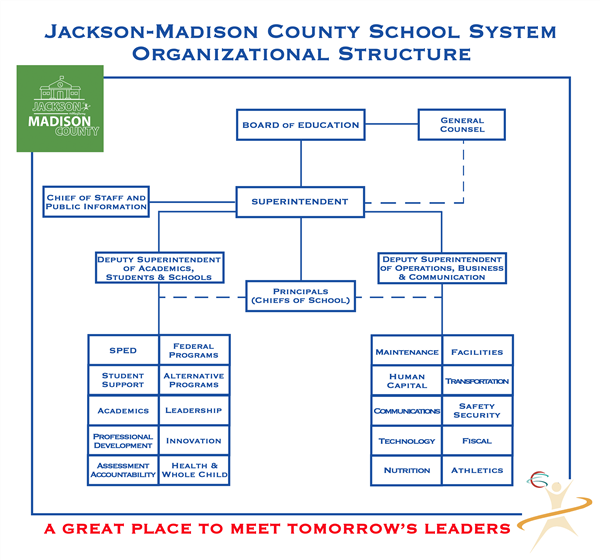 JACKSON, Tenn. – Weeks before the JMCSS school year officially rolls over on July 1, the two recently-named deputy superintendents have hit the ground running. From discussing core values to reviewing budgets, meeting with department heads, and solidifying community partnerships, Dr. Williams and Dr. Catlett have been hard at work during the month of June.
With the start 2020-2021 school year, JMCSS sees a major shift in the support structure away from an executive team of 5+ central office staff members to a streamlined organizational chart with a deputy superintendent to oversee both of the two major areas, freeing Superintendent King to engage the community and work more directly with principals. According to Dr. Catlett, this structure allows the team to "divide and conquer," with purposeful and dedicated leadership for every area of the organization.
Deputy Superintendent of Academics, Students & Schools, Dr. Vivian Williams, will oversee several areas: academics, alternative programs, assessment & accountability, federal programs, health and whole child, innovation, leadership, professional development, special education, and student support. Dr. Williams has served in Central Office leadership for over 11 years, most recently supervising student support services as Chief of Student Support and Improvement.
Dr. Ricky Catlett, Deputy Superintendent of Operations, Business & Communication, is no stranger to JMCSS, having graduated from South Side High School and served as a JMCSS principal for over 11 years. Dr. Catlett will supervise athletics, communications, facilities, fiscal services, human capital, maintenance, nutrition, safety & security, technology, and transportation.
These two deputy superintendents will work very closely together as they oversee the daily operations of the district and support Dr. King's long-term vision. They have a great foundation for working as a team, having been in the district together in the past and even in the same cohort for a year-long training program with the National Institute for School Leadership.
"Dr. Catlett and I definitely have to communicate; we have to work together, because so much of what happens on the academic side with students and schools depends on the operations," commented Dr. Williams, "I was happy for him to return to JMCSS... We have a team that can work together."
One of the biggest impacts of this new alignment in the organizational structure is to create more consistency between academics and student support. This means that Central Office leadership will be seeking to learn from the student and schools' perspectives how to best support academics in context of the whole child and making sure all supports are aligned.
The structure changes that Dr. King has implemented with the deputy superintendents will allow him to devote additional time to leading and coaching school principals, meeting with advisory teams, engaging school board members, serving on local, state and national boards, visiting schools, seeking ways to increase revenue, and working with community leaders and elected officials to build trust and support for more options and opportunities for the public school system.
"Everybody before us has laid the foundation for where we are now," stated Dr. Ricky Catlett, "This is not about a title. This is about a support system for our students. This is about us doing this together. Our goal is not status quo, but instead growth in every area for our students. This design gives us all a way to connect with district employees and our community to better serve our students."
As both deputy superintendents move forward with planning for the new school year, knowing that this year will require a "new normal," they will continue to work together to see things holistically, capturing a huge volume of work at a high level in order to shift the district more towards a team mentality and streamline the work across departments.