Return to Headlines
Tennessee Education Commissioner tours Denmark Elementary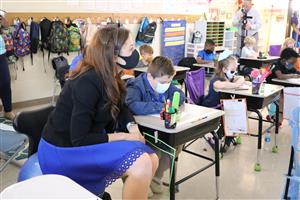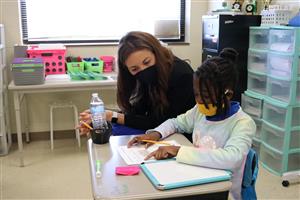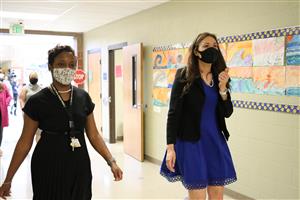 Tennessee Education Commissioner tours Denmark Elementary
Education Commissioner Dr. Penny Schwinn observes West Tennessee classrooms
JACKSON, Tenn. - The state's top education official visited classrooms in Madison County on Thursday as Jackson-Madison County School System students prepare for TNReady assessments next week. Education Commissioner Dr. Penny Schwinn observed teachers and students at Denmark Elementary in her first visit to the District.
"There's a long history of excellent work here. This year, you all have stood out for the amazing things that you've done. I'm just very thrilled to be here. I can't underscore how hard this year has been. So when you see teachers moving along to try to make it as normal as possible, I have so much respect for the work that goes into it," Commissioner Schwinn said.
Schwinn had served as Commissioner since February 2019. She has focused on improving reading skills among Tennessee learners.
"We're going to be focused on all things reading," Commissioner Schwinn said. "We're thrilled about Reading 360 and the launch of that work. Districts like this one have been early adopters. Every child needs to be reading by third grade and on grade level."
The state's assessment program since 1988, Tennessee Comprehensive Assessment Program (TCAP) testing includes TNReady assessments in math, English language arts, social studies, and science. Commissioner Schwinn provided a bit of advice for JMCSS students as they begin testing.
"Try your hardest like you do everyday at school. Taking the TCAP should feel like any other day. You're going and showing what you know. That's going to absolutely give us the information we need as state and district leaders to make really strategic investments to help students as they move along in their education," Commissioner Schwinn said.
Students in Grades 2nd-8th grade will participate in TN Ready testing from April 13th through April 22nd. Parents are encouraged to have their students at school on time to receive breakfast and prepare for testing to begin.
###