Return to Headlines
A Message from the Superintendent 11.17.2020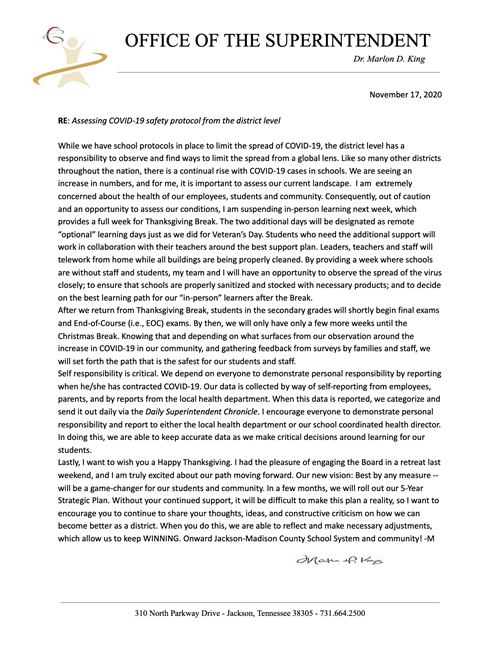 November 17, 2020

RE: Assessing COVID-19 safety protocol from the district level
While we have school protocols in place to limit the spread of COVID-19, the district level has a responsibility to observe and find ways to limit the spread from a global lens. Like so many other districts throughout the nation, there is a continual rise with COVID-19 cases in schools. We are seeing an increase in numbers, and for me, it is important to assess our current landscape. I am extremely concerned about the health of our employees, students and community. Consequently, out of caution and an opportunity to assess our conditions, I am suspending in-person learning next week, which provides a full week for Thanksgiving Break. The two additional days will be designated as remote "optional" learning days just as we did for Veteran's Day. Students who need the additional support will work in collaboration with their teachers around the best support plan. Leaders, teachers and staff will telework from home while all buildings are being properly cleaned. By providing a week where schools are without staff and students, my team and I will have an opportunity to observe the spread of the virus closely; to ensure that schools are properly sanitized and stocked with necessary products; and to decide on the best learning path for our "in-person" learners after the Break.
After we return from Thanksgiving Break, students in the secondary grades will shortly begin final exams and End-of-Course (i.e., EOC) exams. By then, we will only have only a few more weeks until the Christmas Break. Knowing that and depending on what surfaces from our observation around the increase in COVID-19 in our community, and gathering feedback from surveys by families and staff, we will set forth the path that is the safest for our students and staff.
Self responsibility is critical. We depend on everyone to demonstrate personal responsibility by reporting when he/she has contracted COVID-19. Our data is collected by way of self-reporting from employees, parents, and by reports from the local health department. When this data is reported, we categorize and send it out daily via the Daily Superintendent Chronicle. I encourage everyone to demonstrate personal responsibility and report to either the local health department or our school coordinated health director. In doing this, we are able to keep accurate data as we make critical decisions around learning for our students.
Lastly, I want to wish you a Happy Thanksgiving. I had the pleasure of engaging the Board in a retreat last weekend, and I am truly excited about our path moving forward. Our new vision: Best by any measure -- will be a game-changer for our students and community. In a few months, we will roll out our 5-Year Strategic Plan. Without your continued support, it will be difficult to make this plan a reality, so I want to encourage you to continue to share your thoughts, ideas, and constructive criticism on how we can become better as a district. When you do this, we are able to reflect and make necessary adjustments, which allow us to keep WINNING. Onward Jackson-Madison County School System and community! -M