Return to Headlines
Students Compete, Receive Rewards at National FFA Conference
While other JMCSS students enjoyed time off for Spring Break, several high school students spent time traveling to Gatlinburg, TN to attend the TN State FFA Convention along with 3,500 other members. Students not only attended conference sessions, but also received several awards.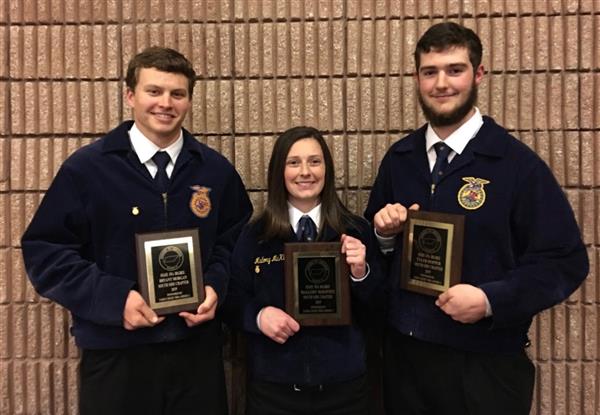 Eight students received the Tennessee Future Farmers of America (FFA) State Degree. This degree is the culmination of an FFA member's work throughout their high school career.
JMCSS 2019 recipients include Gracie Young, AJ Cobb, Nia Fitzhugh, and Hayden Hughes (Liberty); and Bryant Morgan, Mallory McKinney, and Tyler Hopper (South Side, pictured on right).
To receive this degree, a student must be an FFA member for at least two years, completing 360 hours of agricultural education and 25 hours of community service while enrolled. Additionally, they must compete in five activities above the chapter level and must have a supervised cultural experience program or agricultural job.
Past recipients (and JMCSS graduates) have gone on to become strong leaders in the agricultural world and occupy positions that include working for Farm Credit Services, managing poultry houses for Perdue Farms, and keeping grounds for the Jackson Generals.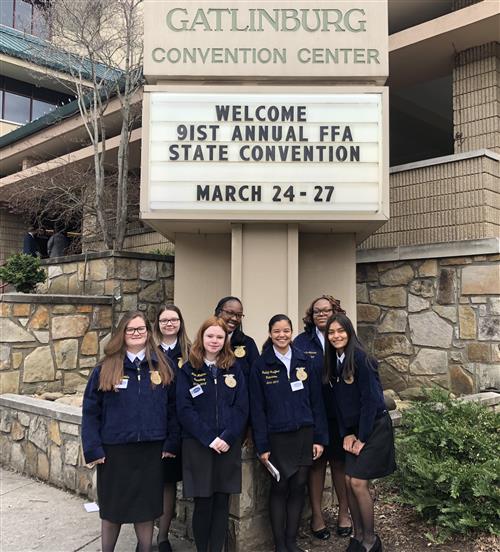 "There is nothing more rewarding for educators than to see their students succeed beyond the classroom," said Melissa Perry, agriculture teacher and FFA sponsor at South Side. "I am very proud of these young people who have been active members of the FFA. This is a great start to a successful career... developing their potential for premier leadership, personal growth, and career success through agricultural education."
North Side FFA members, led by instructor and advisor Wesley Blankenship, competed in the Milk Quality Career Development Event and placed 11thout of 21 teams from across the state. This competition was designed to evaluate problem solving skills in regards to raw milk quality, dairy products, federal milk marketing orders, and attributes of selected milk products.
Pictured on left: Brinkley Reynolds, Destiny Johnson, Lidia Matthews, Einyia Bell, Madelyn Bradford, Kimberlie Johnson, Laura Martinez