Return to Headlines
JMCSS educators put L.E.A.D.S. Educator Grants to work for their students
JACKSON, Tenn. – The three Jackson-Madison County Schools educators who won inaugural L.E.A.D.S. Educator Grants presented by Leaders Credit Union are already putting their winnings to work. The program awarded $1,000 grants to each educator and one $250 grant to a runner up. Winners were selected based on interactions on social media to videos produced by each applicant.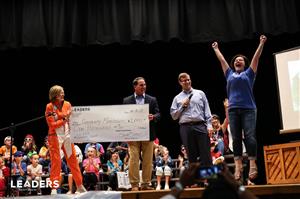 Dr. Callie Dollar, who is the middle school reading and language arts and social studies teacher at Community Montessori School, learned she had won through a NASA-inspired announcement during a school community meeting. "I ran all the way to the stage like I was on 'The Price is Right'!" she recalled.
The 16-year teaching veteran is using her winnings to off-set some cost to students for a field trip to the Space and Rocket Center in Huntsville, Ala., in November. "I LOVE to take my classes on field trips," she explained. "To me they are the ultimate means of hands-on learning." The day-long trip will include S.T.E.M. activities, a lesson led by NASA experts, an IMAX film and a hands-on tour of the museum.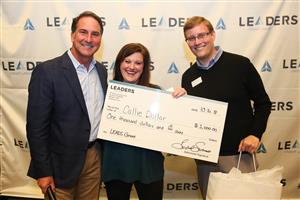 Dr. Dollar's application video reached the most people at 27,141. She said the video would not have been possible without the musical talents of her co-teacher Mr. Bruce Greenway. "He's always so supportive of my endeavors," she said. "I couldn't be successful without him."
Vanesa Dawkins, a Pre-K Peer Model Educator at Nova Early Learning Center, is investing every dollar into her classroom. Previously teaching at the second-grade level, she said many of her personal educational supplies were not age appropriate for her current classroom. "I'm buying STEM bins to go along with our Big Day curriculum, puppets for our classroom, age-appropriate books for our learning center, light boxes, sensory bins and learning pads," explained Dawkins. She admits purchasing everything, especially all at once, would have been very difficult on her own.
In her fifth year as an educator, Dawkins says these items will help in her goal to lay a positive f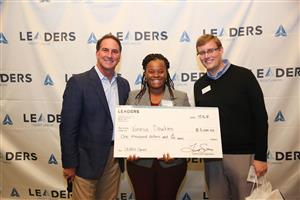 oundation in the lives of her students. "My desire is for my students to learn that they are worth so much more than they can imagine and they have a teacher who went the extra mile to make sure they have a quality education," she said. "I hope what I purchase with this grant affords them experiences and enhances their knowledge."
Angela Searcy, the district's Parent and Community Engagement Coordinator, received the only runner up grant. She is using it to launch the BK (Be Kind) Challenge at Jackson Career and Technology.
The L.E.A.D.S. Educator Grant program was announced to JMCSS educator during opening in-service in July. Ten winners were chosen. Twenty-three educators from across the area applied for the grants. "The L.E.A.D.S. Educator Grant embodies who we are as an organization because we are here to serve, advocate and educate our members and allow them to dream of a new future," said Todd Swims, President and CEO of Leaders.