Return to Headlines
Payne named as new leader at Liberty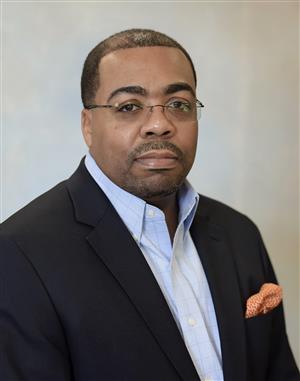 JACKSON, Tenn. – Parkview Learning Center principal, Dr. Roderick Payne, has been named as the new leader of Liberty Technology Magnet High School. "In just more than two months at PLC, Dr. Payne has made a positive impact on our students, their learning and the atmosphere for our staff," said Dr. Eric Jones, superintendent of the Jackson-Madison County School System. "I am confident in his leadership and ability to continue to move Liberty forward."
Payne joined JMCSS in July of this year after 12 years in administration in the Shelby County Schools, most recently serving as District Administrator of Academic Operations and School Support. He previously worked in the Memphis City Schools at the middle and high school levels. "I look forward to joining the Liberty team," said Payne. "This is an opportunity to create, build and restore Liberty to prominence from the aspects of academics, athletics and being a strong pillar of the community."
The Memphis native takes over the leadership role as Dr. Janice Epperson leaves the district to assume an assistant superintendent role in Connecticut. The two will work together for the next several weeks. "The transition will be a gradual process as Dr. Epperson makes her departure," explained Payne. "She and I will work collegially to do what is best in the interest of students, staff, parents and constituents in the community."
Payne understands taking over in the middle of a school year will come with challenges but says his high level of expectation for everyone will not waver. "Students should expect to be challenged to be better each day and to be treated with fairness," he stated. "Parents and staff can expect a principal who will operate with integrity, have an open mind for progressing forward, and be solutions oriented when issues arise."
No immediate changes will be made, according to Payne. However, he said after a time of observation and analysis any necessary changes will come gradually.
The husband and father of two earned his bachelor's in criminal justice at the University of Tennessee at Martin, his master's from Christian Brothers University, his Education Specialist from Union University and his doctorate from the University of Mississippi.
A new principal at PLC, the district's alternative school for middle and high school students, will be named in the coming days. Shontaviar Beasley, a teacher at PLC, has been named as interim principal.