Return to Headlines
Governor Praises JMCSS LOOP and Early College High Programs as Models for the State
Jackson, Tenn. - Governor Bill Lee praised two JMCSS programs after visiting with students and faculty this week, saying "This is the kind of education I think we need to see more of across the state." On his visit to Jackson on Wednesday, September 18th, the Governor stopped at Jackson Central Merry Early College High before touring Stanley Black & Decker to visit with students in the Local Options and Opportunities Program (L.O.O.P.).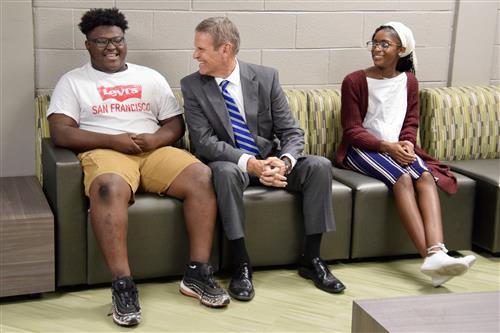 "It made me feel special that the Governor would come to support us at ECH," said senior Brooklyn Phillips, who was able to share a few words with the Governor during his visit. "The Governor being here helped me realize that people are expecting students from JCM-ECH to accomplish great things."
Seven JCM Early College High students had the opportunity to sit for a conversation with the Governor where they discussed their educational and career aspirations and talked about what makes their school unique. After the conversation, Governor Lee thanked JCM Early College staff and students for creating an example that challenges the status quo and offers opportunities through workforce and technical pathways to success.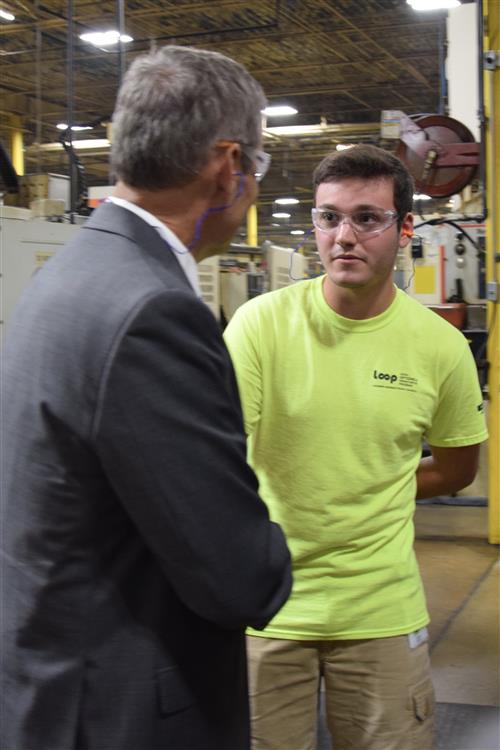 Principal Nathan Lewis described the visit in this way: "When the Governor of Tennessee asks if this is a model that could be replicated across the state it makes you pause and think about the lives that can be affected because of the work that has occurred at JCM-ECH." He was honored to host the Governor for a visit and hopes the conversations about early college high programs continue to gain momentum across the state.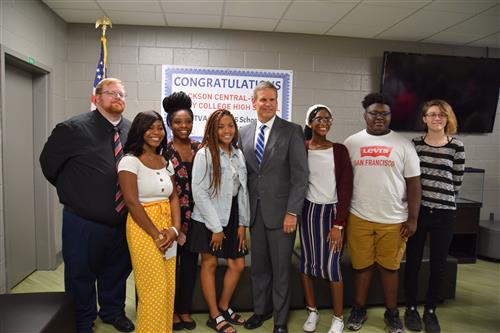 After JCM Early College High, the group went on to visit Stanley Black & Decker, one of several sites where students involved in L.O.O.P. participate in the local workforce half-time while working towards their high school degree. The Governor conversed with two students who were working on the floor du
ring the tour as well as visiting with those in the on-site classroom at the facility.
"We were very honored by Governor Lee's visit and proud to hear him say that he thinks programs like L.O.O.P. and JCM-ECH should be models for other districts in the state," said Dr. Jared Myracle, the district's Chief Academic Officer.