Return to Headlines
JMCSS Honors Parent Volunteers for their Dedication
JACKSON, TN – From leading PTO fundraisers to helping grade papers in a classroom, parents play a vital role at many Jackson-Madison County Schools. Involved parents contribute dramatically to academic success by encouraging their students with coursework, valuing attendance, and more.
Each November, the district celebrates National Parent Involvement Week, an annual opportunity to celebrate and recognize the parents who work hard to contribute to our school system. This year, each principal selected one parent to be recognized for their outstanding service, support and dedication to the students of JMCSS. The selected parents were recognized at a lunch event and presented with certificates of recognition.
"I just wanted to see the faces and express our gratitude in person," said Title I Parent & Community Engagement Coordinator, Angela Searcy, who planned the event. The Superintendent also thanked the parents for their dedication and service.
One principal, David Wicker from West Bemis Middle School, said of his selected parent, "Mr. Burkhead has supported our school since the day the doors opened. His daughter and son have both attended West Bemis. Whether it be open house, athletic events, helping to organize a PTO, or just volunteering time to the school, he has always been here to help out."
The following parents were recognized: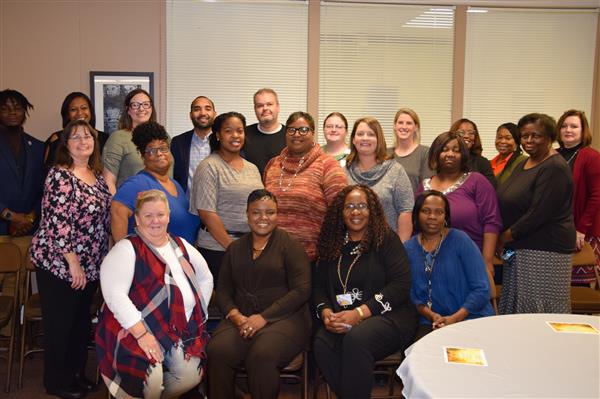 Michael Allmond, Isaac Lane
Jessica Arwood, BEST Academy
Billy Burkhead, West Bemis Middle School
Jeanette Burton, JCM Early College High School
Nakita Cain, Andrew Jackson Elementary School
Yolanda Cole, Alexander Elementary School
Tina Emerson, North Side High School
Heather Green, Community Montessori School
Rhonda Hampton, Rose Hill School
Erin Hornsby, South Side High School
Kelli Jones, Denmark Elementary School
Darlene Jordan, South Elementary School
Jennifer Latham, East Elementary School
LaTonya Marsh, Liberty Technology Magnet High School
Hardy Marshall, Thelma Barker Elementary School
Matt Marshall, Arlington Elementary School
Ashley Smith, Pope School
Jenci Spradlin, Madison Academic
Tenesha Turley, Lincoln Elementary
Donald Vales, BEST Academy
Sheree Williams, Alexander Elementary School
Celeste Winters-Blow, Northeast Middle School
Selena Woods-Higgins, JCT