Return to Headlines
JMCSS' School Health Coordinator Selected as Regional Coordinator of the Year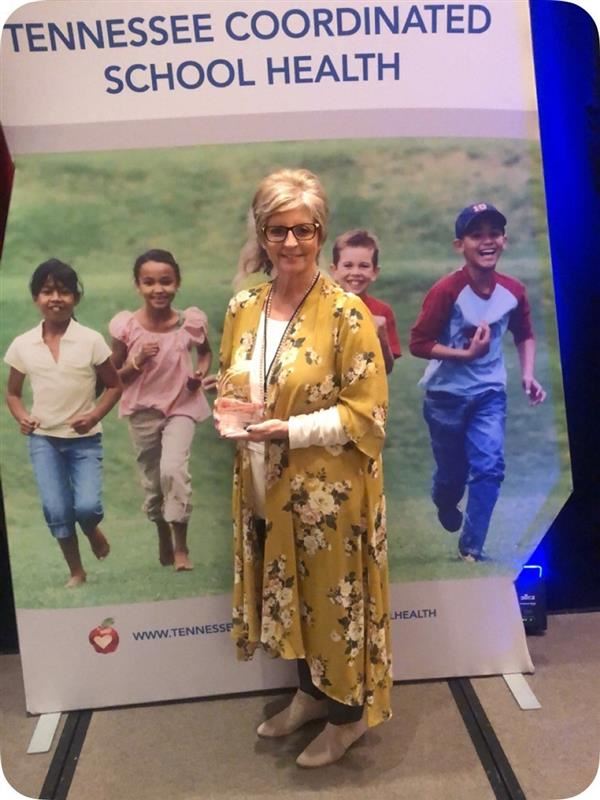 Annette Wilson was recently chosen as Regional School Health Coordinator of the Year for the Southwest Region. She was recognized at the annual Coordinated School Health Awards Luncheon on Tuesday, March 3rd at the Embassy Suites in Franklin, TN.
Annette Wilson is a lifelong resident of her community and a graduate of one of the local high schools. She is extremely vested in her community. She learned very early that it does take a village to raise a child and is not shy when she asks people to help her raise the almost 13,000 children in her school district. Annette is also an advocate for children's health and has worked for nearly 20 years advocating for the children in her district to create healthier school climates, open a school-based clinic, and grow the nursing program.
Fourteen of the district's 23 schools have been recognized as healthier schools with the Alliance for a Healthier Generation and two of those schools were recognized as gold schools; the first in the state to receive this high honor. If children are the focus, Annette is there to serve the community. Wilson sits on many coalitions and boards, and she has accomplished many things through collaboration with local government. She shares her knowledge by speaking at school health conferences and has been recognized locally and nationally for multiple awards, recognitions, and grants. Her notable accomplishments include:
Collaborated with Kiwanis Club to get AED's placed in every school in the district
Recognized in Health Magazine as having one of the healthiest schools in the nation
Named National Champion for the Alliance for a Healthier School and Community
Served as an expert of the panel for the Alliance to review policy and best practices
Named 100 Most Influential Woman by Business Professional Women's Association
Every day, Annette's primary goal is to work to remove any barriers children might have to getting an education and to continue the work of Coordinated School Health by making others aware of how health and academics go hand in hand. Her mission is fueled by her passion to make a difference in the lives of the children in the Jackson-Madison County School System.