Return to Headlines
A Message from the Superintendent 11.12.20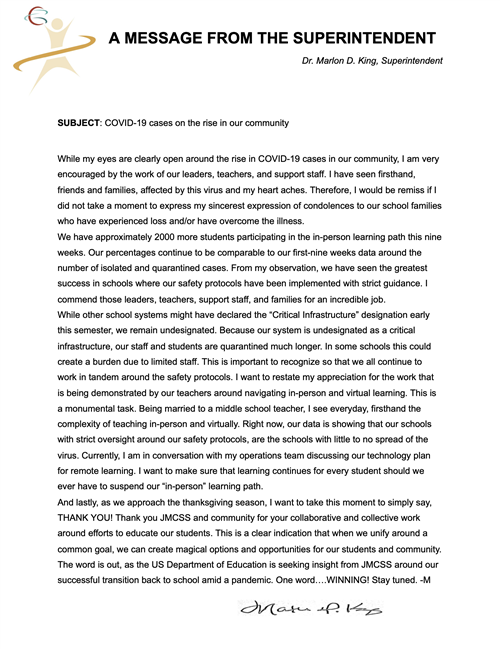 While my eyes are clearly open around the rise in COVID-19 cases in our community, I am very encouraged by the work of our leaders, teachers, and support staff. I have seen firsthand, friends and families, affected by this virus and my heart aches. Therefore, I would be remiss if I did not take a moment to express my sincerest expression of condolences to our school families who have experienced loss and/or have overcome the illness.
We have approximately 2000 more students participating in the in-person learning path this nine weeks. Our percentages continue to be comparable to our first-nine weeks data around the number of isolated and quarantined cases. From my observation, we have seen the greatest success in schools where our safety protocols have been implemented with strict guidance. I commend those leaders, teachers, support staff, and families for an incredible job.
While other school systems might have declared the "Critical Infrastructure" designation early this semester, we remain undesignated. Because our system is undesignated as a critical infrastructure, our staff and students are quarantined much longer. In some schools this could create a burden due to limited staff. This is important to recognize so that we all continue to work in tandem around the safety protocols. I want to restate my appreciation for the work that is being demonstrated by our teachers around navigating in-person and virtual learning. This is a monumental task. Being married to a middle school teacher, I see everyday, firsthand the complexity of teaching in-person and virtually. Right now, our data is showing that our schools with strict oversight around our safety protocols, are the schools with little to no spread of the virus. Currently, I am in conversation with my operations team discussing our technology plan for remote learning. I want to make sure that learning continues for every student should we ever have to suspend our "in-person" learning path.
And lastly, as we approach the thanksgiving season, I want to take this moment to simply say, THANK YOU! Thank you JMCSS and community for your collaborative and collective work around efforts to educate our students. This is a clear indication that when we unify around a common goal, we can create magical options and opportunities for our students and community. The word is out, as the US Department of Education is seeking insight from JMCSS around our successful transition back to school amid a pandemic. One word….WINNING! Stay tuned. -M