Return to Headlines
System receives $80K to bolster early literacy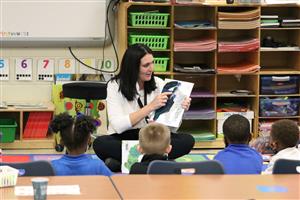 Funding to support foundational skills, teacher and leader training
JACKSON, Tenn. – The Jackson-Madison County School System will further strengthen its early literacy efforts thanks to a two-year Early Literacy Network grant. JMCSS is set to receive $80,000 to fund pre-K through 2nd-grade foundational literacy skills instruction. These funding awards will increase teacher effectiveness and accelerate student achievement.
"This grant will serve as an investment in the teachers within our 44 pre-K classes as they equip our youngest learners with skills that will last for a lifetime," stated Chief Academic Officer (Elementary) Kippi Jordan.
As part of the Early Literacy Network, Jackson-Madison County Schools will partner with other participating Tennessee school districts to create support networks that will focus on solving similar problems of practice, share resources, and develop implementation support strategies focused on early literacy. Within these networks, districts will be able to leverage the power of collaborative support while implementing high-quality instructional materials adopted from an approved vendor.
"A comprehensive pre-K plan for English Language Arts implementation will be developed, including ongoing, spiraled professional learning for teachers and leaders in both strands of literacy instruction: knowledge-based instruction and foundational skills," Deputy Superintendent Dr. Vivian Williams said.

The Early Literacy Networks were born from Reading 360, the state's comprehensive plan to combat literacy loss brought about by the pandemic. Within this plan, optional grants and resources were offered to districts in order to help more Tennessee students develop strong phonics-based reading skills by supporting districts, teachers, and families. Districts participating in the Reading 360 Early Literacy Network were able to apply for and receive direct district support for teachers and leaders for the implementation of sounds-first instruction in the early grades as well as training and support for teachers and leaders.
"Pre-K educator training is a large component of the grant and will include providing scaffolded support in the classroom as well as designing intervention programs for students. Data use for students who are at-risk or who exhibit a significant reading deficiency will be another training topic we address," states Dr. Williams.
###