Return to Headlines
District Activities and Events December 7-17
Christmas Around the World Christmas Concert
Thursday, December 16 at 6:30 PM, Thelma Barker Elementary School, 1470 Ashport Rd
The concert Choir will perform along with the 3rd and 4th grade classes. Parents, family and friends of Barker Elementary are welcome to attend. There is a $5 admission that can be purchased at schoolcashonline.com. Classrooms will be presenting holiday displays of different holiday customs from around the world to view before and after the concert. Come and join us for a great time. Contact Stephen Watson for more information at sdwatson@jmcss.org
Andrew Jackson Winter Concert
Thursday, December 9 at 9:30 AM, Andrew Jackson Elementary, 211 Old Hickory Blvd
This is a free event for Andrew Jackson parents and our community partners. Contact Desi Emison for more information dlemison@jmcss.org
Breakfast with Santa
Saturday, December 11 at 8am, Bemis United Methodist Church, 23 Massachusetts Street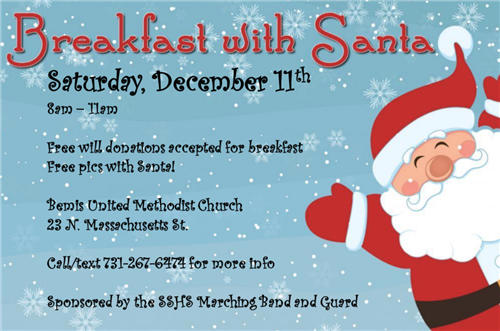 Arlington Elementary Christmas Concert
Tuesday, December 14 at 9AM, Arlington Elementary, 701 Arlington Ave
This is a free event for Arlington Elementary parents and families. Parents/families should be at the school no later than 8:45 to check in. They will need to bring a photo ID for our visitor protocol. Contact Alyssa Jordan for more information: 731-506-2547 or arjordan@jmcss.org
Polar Express Holiday Parade and School Celebration
Tuesday, December 14 at 9AM, Pope School, 1071 Old Humboldt Rd
Students in grades K-2 will participate in a Polar Express Pajama Parade at 1:00 p.m. After the parade, students in grades K-6 will return to their classes to complete holiday themed activities with their teachers. Parents are invited to attend. Contact Principal Tracey Vowell for more information: thvowell@jmcss.org
South Side High School Band Christmas Concert
Thursday, December 9 at 7PM, South Side High School East Campus, 84 Harts Bridge Road
Contact David Sinclair via email dasinclair@jmcss.org for more information
JASA Toy Drive
Wednesday, December 1 through Wednesday, December 15, Jackson Academic STEAM Academy, 1938 Emporium Drive
Bring your donations of new (unwrapped) toys for local children in our community. Emial blchrystak@jmcss.org for more information.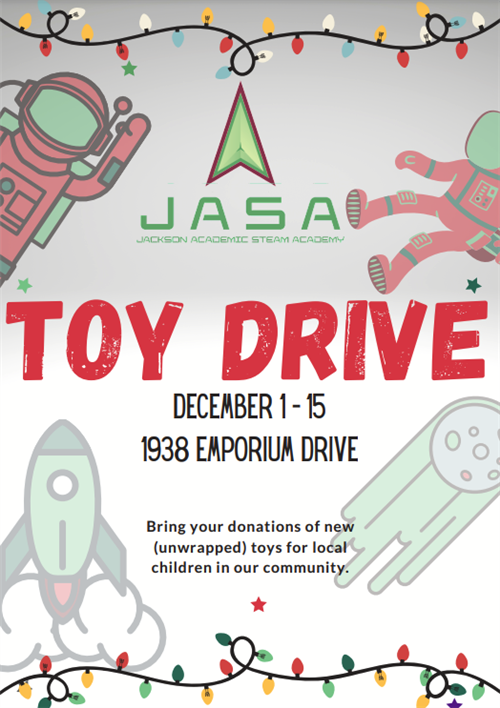 Northeast Middle School Winter Concert Spectacular
Monday, December 13 at 6PM/ Liberty Technology Magnet High School, 3470 Ridgecrest Road Exd
The Northeast Middle School music department is proud to present A Winter Concert Spectacular, featuring special holiday performances by both our choir and band. Come celebrate the music of the season with us! Email Camille Hayes, Chorus Director, via email cchayes@jmcss.org for more information.
Taste of Liberty
Wednesdays from 11AM-1PM, Liberty Technology Magnet High School, 3470 Ridgecrest Road Exd
We are open now for guests. Operating days are Wednesdays. Times are 11am-1pm. Email Leslie Emerson for more information via email: lmemerson@jmcss.org Tomorrow's menu is included below: