Return to Headlines
JMCSS recognized for significant academic growth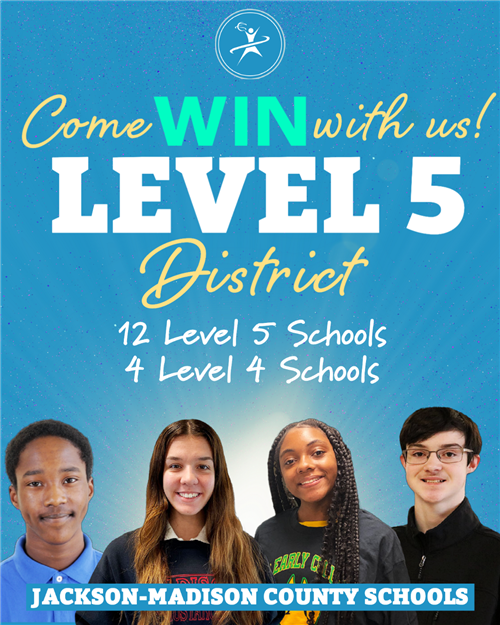 16 Jackson-Madison Co. schools celebrated for improvements in math and English language arts
JACKSON, Tenn. – Jackson-Madison County public school students made unprecedented improvements in math and English language arts (ELA) according to new TNReady data released by the Tennessee Department of Education. Additionally, JMCSS is outpacing the state average for growth in math for grades 3-8.
"These scores are a testament to the effort our teachers and students have been putting into their work and school. Our teachers are meeting students where they are and moving them forward," Chief Accountability & Assessment Officer Catherine Korth said.
The Tennessee Value-Added Assessment System (TVAAS) measures student growth year over year. Schools that earn a schoolwide composite score of 4 or 5 are making more growth than expected. These numbers signal that more than a year's worth of growth was made during the past school year.
"A level five designation is extraordinary for any school. However, having more than a dozen schools show gains in foundational subjects like math and ELA is extremely rare. It's simply unheard of for Jackson-Madison County. Our teachers and families deserve to pause and celebrate this achievement," said Deputy Superintendent of Academics Dr. Vivian Williams.
A total of 12 JMCSS schools received Level 5 designations: Andrew Jackson, East, Isaac Lane, JCM-Early College, JCT, Madison Academic, North Parkway, Northeast, Pope, South, South Side, and Thelma Barker. Four schools received Level 4 designations: Alexander, Denmark, JCM Middle, and West Bemis.
"Our schools are on the right path. These results are clear evidence. We're not just recovering from the learning loss over the last several years. Our teachers are helping students reach their full potential. This is a huge momentum shift for JMCSS," Superintendent Dr. Marlon King said.
###